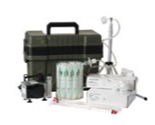 Safety Tech, Inc. will conduct a comprehensive assessment to aid in the identification of superficial mold and suspect sources of mold. Safety Tech, Inc.'s primary goal is to make certain the client fully understands, is completely informed and satisfied with the end product. All analytical data and collected information will be kept confidential and shared only with the client and designated microbial remediation contractor.
Safety Tech, Inc. will collect samples from areas that are suspect for mold contamination. A comprehensive visual inspection will be performed. Collected samples will be transported to an accredited American Industrial Hygiene Association (AIHA) laboratory that is a participant in the AIHA Environmental Microbiology Laboratory Accreditation Program (EMLAP) and proficient in the AIHA Environmental Microbiology Proficiency Analytical Testing (EMPAT) program. Photographs will be collected from areas demonstrating suspect mold (water damage) and / or visible mold. Typically, a microbial evaluation does not employ destructive sampling techniques.
The Five Stage Process for a Mold Project:
Stage I: Client calls Safety Tech, Inc. and requests a site evaluation for the presence of mold.
Stage II: A microbial evaluation is conducted to determine the presence or absence of molds and / or fungi.
Stage III: Analytical data is reviewed by the project Industrial Hygienist and a technical report is developed.
Stage IV: A conclusion is made as to whether or not there is a microbial amplification identified in one or more tested areas, or the assessment site is determined to be acceptable based on current guidelines. If a microbial amplification is identified, a microbial remediation plan is developed and discussed with the client.
Stage V: PRV (Post Remediation Verification) / Clearance Sampling will be performed.